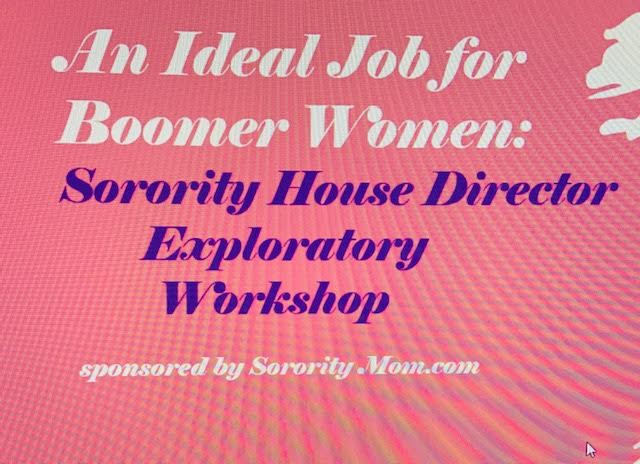 Watch this free webinar here on the website
This will give you a fast overview of what it's like to be a Sorority House Director.
Watch our free webinar to learn how the House Director job can fund your happy retirement for many years to come! https://sororitymom.com/free-resources/
And when you sign up to watch it, you also get our free women's retirement assessment form. Take the time to fill it out! It's important to see where you are at this particular point in your life…and where you're headed.
What are your top five concerns about retirement?
Retirement concerns for Boomer women fall into four major areas: Finances, Health, Purpose, Regrets.
Ladies, planning ahead is the key to a successful retirement. And working in your retirement years as a Sorority House Director may be the BEST thing!
So, take some time now to think about how this career could benefit you. You may decide the job isn't for you. But filling out the assessment form covering your financial, health, and emotional needs for the next decade will be a good exercise!
You know that nagging feeling at the back of your mind when thinking about some aspects of retirement? There's a lot to deal with all at once.
Use our Free Women's Retirement Assessment to address and organize your personal retirement priorities. https://sororitymom.com/free-resources/
Be prepared!